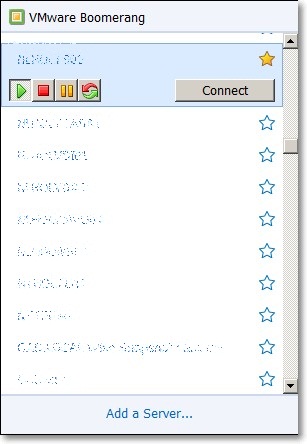 Gisteren heeft VMware Labs hun nieuwste probeersel gepresenteerd: VMware Boomerang. Met behylp van deze lichtgewicht client kunnen meerdere vCenter en ESX servers gelijktijdig gebruikt worden. Voeg simpelweg een ESX of vCenter server toe en de beschikbare virtuele servers verschijnen in een lijst.
Features:
Ondersteuning voor meerdere ESX en vCenter center servers.
Bewaren van credentials om aanmelden te vereenvoudigen.
Gebruik van favoriete virtuele machines.
Eenvoudige gebruikers interface om de meest voorkomende acties uit te kunnen voeren, zoals overnemen of power acties.
ESX en vCenter servers met veel virtuele servers worden automatisch in een boom structuur geplaatst.
Er zitten ook nog wel wat haken en ogen aan:
Het is nog niet mogelijk om door middel van de al aanwezige Windows credentials automatisch door te loggen op de ESX, vCenter of virtuele server (SSON, zoals wel mogelijk is met vSphere client).
Het automatische update mechanisme lijkt nog niet goed te werken met proxy servers (of het kan zijn dat op het moment dat dit artikel werd geschreven de update site niet beschikbaar was).
Ook ontbreken een aantal belangrijke features:

Het direct kunnen zien van de status van de virtuele machines (powered on of niet, VMware Tools up-to-date).
Het kunnen filteren van de gedetecteerde virtuele machines (templates, VDI's)
Een vergelijkbare tool is
vmClient van NTPro.nl
. Deze tool is wel uitgebreider, maar in de gratis variant gelimiteerd tot 50 virtuele machines. VMware Boomerang staat nu nog in de kinderschoenen, zodat vmClient nu nog de beste keus is. Maar wat zodra issues zoals SSON opgelost zijn? Dan is VMware Boomerang een serieus alternatief voor vmClient, zeker omdat VMware Boomerang !