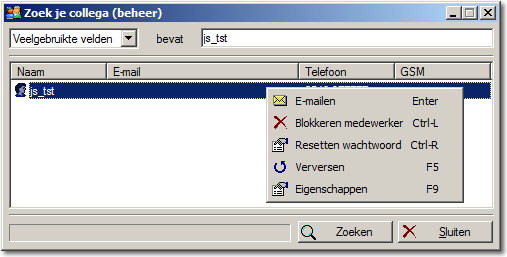 Heeft iedereen dat niet eens? Wat is nu precies het mail adres van die ene collega, hoe heette die ene collega nu precies met dat specifieke telefoonnummer, of, van wie is de auto met een bepaald kenteken die de lichten aan heeft staan?
Door deze gegevens in Microsoft Active Directory op te slaan kan er gericht gezocht worden naar bepaalde gegevens, en niet door met de intercom iedereen lastig te vallen (ook degene die net in een bespreking zitten)!
Voor beheerders is er de mogelijkheid accounts te blokkeren, vrij te geven of het wachtwoord van een gebruiker te wijzigen. Hierbij wordt wel aangeraden deze wijzigingen centraal op te slaan voor eventuele bewijsvoering naderhand, bijvoorbeeld in een SQL database of log bestand.
Afhankelijkheden:
Er moet een Microsoft Active Directory omgeving actief zijn.
Om de gegevens te laten beheren door de collega's zelf kan de toepassing 'Beheren persoonlijke gegevens' gebruikt worden.