Ivanti Workspace Control and Ivanti Automation Control, formerly known as RES Workspace Manager and RES Automation Manager, are great tools to manage workspaces and automate application deployment, with great integration between Ivanti Workspace Control and Ivanti Automation Control. These tools provide ways to initial deploy applications and standardization of workspaces. But what if applications which is already deployed are updated or renewed, like Java, Adobe Reader or even the Ivanti Workspace Agent?
One can schedule tasks on Ivanti Automation Control for each Ivanti Autmation Agent, but this is not easy to manage and to set-up. You'll have to select all Ivanti Autmation Agent and add them to the task but when will that Ivanti Autmation Agent be online? When will tasks fail due to timeouts?
A better way to manage this is to create an installation/update module in Ivanti Automation Control. This module can then be used within initial deployment projects or invoked from Ivanti Workspace Control. The Ivanti Automatioon Control module should meet the following criteria:
The application should be a silent, per machine, installation, preferably which also updates previous versions.

If there is no update function a seperate remove and install should be provided

The installation should proceed if the application isn't installed
The update should proceed if the installed application is different from the new version
If none of the criteria are met, installation should be skipped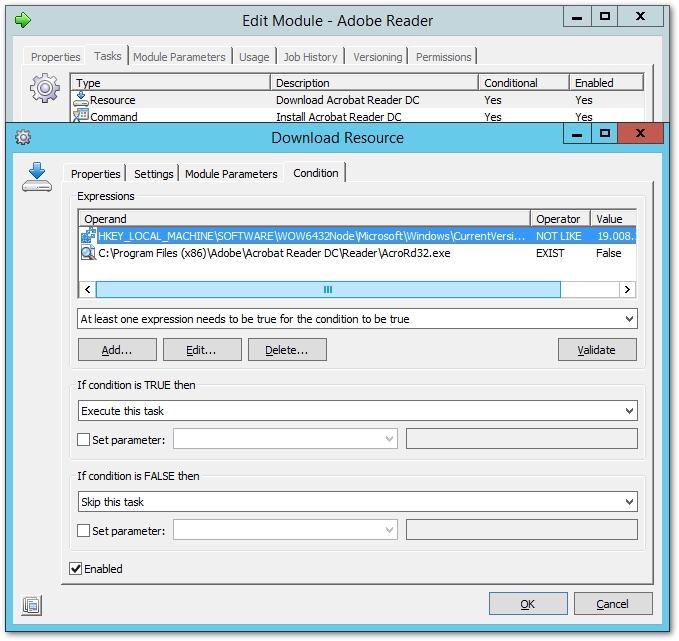 The Ivanti Automation Control module can then be invoked from Ivanti Workspace Control as a kind of generic Automation Task. Within this task the Ivanti Automation Control module is selected and set to run once per computer. Be aware that, like the example below, selection the checkbox 'Waiting for task to finish before continuing' will add addition time to the logon process. Think about which applications can be updates after logon and which ones should be installed at logon!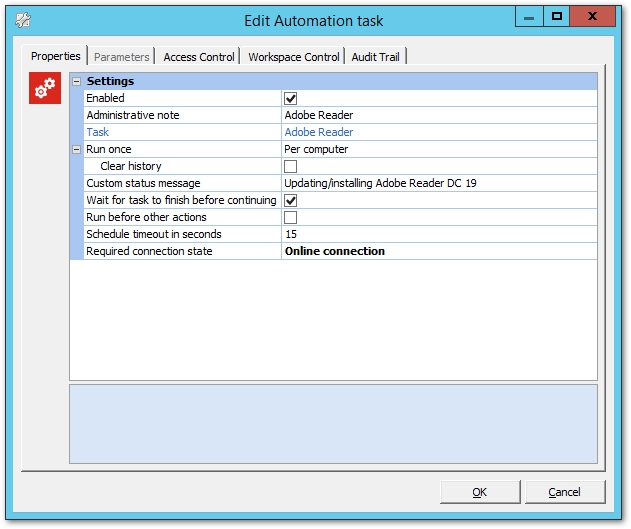 What do we get by doing this? This provides us a simple and robust way of updating common software (and even the Ivanti Workspace Control agent) on Ivanti Workspace Control managed workstations, casuing applications to be up-to-date and as safe as possible. The installation is run at logon, only once per workstation. If there is a newer version of the application, just put it in the Ivanti Automation Control module (don't forget to provide the correct checks for install or update, and test) and select the 'Clear history' checkbox. At next logon it will run for all Ivanti Workspace Control managed workstations again.