Last week I had the chance to lay my hands on two 3TB Seagate disks as a replacement for my old Western Digital Green 1TB disks currently in use for my Synology DS212j NAS. The 1TB disks currently installed in the DS212j NAS are in a RAID1 configuration and there several articles that explain how to upgrade your disks. I read some articles and according to some of these articles the first step should be to creating a Synology backup of the old 1TB disk on a larger disk. Good read stuff is:
Step 1: Shutdown the Synology NAS and replace one of the 1TB disks with a larger disk (in my case the 3TB disk). Startup the Synology NAS and create a new volume (Volume 2) on the newly added disk. Start the Synology Backup & Replication tool and create a full backup to the newly created volume.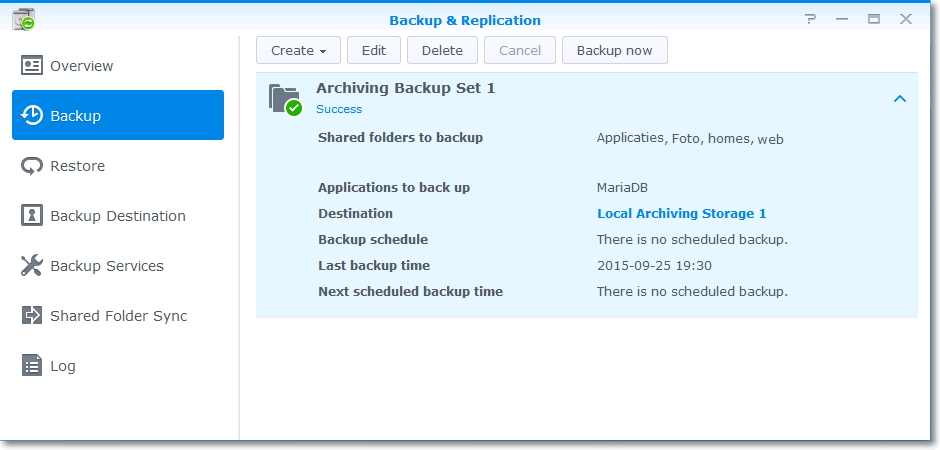 In my case this took a long time (depending on the diskusage and disksize) but ended succesfully. Even the database, MariaDB, looked fine. NOT! (as I discovered later at restore).
Serendepity / S9Y: on my Synology DS212J I've installed Serendipity / S9Y as my blogging software. I find this software very robust en fast, easy to use and well supported. It comes with a plugin architecture which includes social media plugins, markup plugins, sidebar and event plugins and... even a backup plugin! This plugin was my rescue. Although I had to make a lot of manual steps, I managed to get my sites up-and-running again. How? Read below.